KEY FEATURES:
Deep, dark blacks, crystal clear detail

 – UltraBlack technology with an unprecedented 200,000:1 contrast ratio

Rich, vibrant colour

 – latest generation D7 3-chip optical engine with 3LCD C2Fine® technology
Superior video quality – Silicon Optix HQV Reon-VX processor minimises noise and jaggies generating a more natural looking image

Refined Frame Interpolation

 – Smooth image movement, even in high speed scenes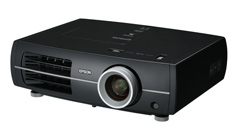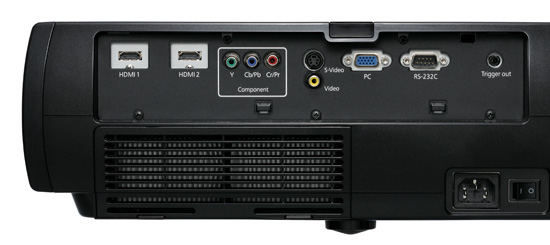 PRODUCT TYPE

Home Theatre Projectors

PRODUCT NAME

Epson EH-TW4500

PROJECTION SYSTEM

RGB Liquid Crystal Display

PROJECTION METHOD

Front / Rear / Ceiling Mount

SPECIFICATION OF MAIN PARTS

LCD

Size
0.74 inches wide D7 panel with MLA
Driving method
Poly-Silicon TFT Active Matrix
Native resolution
1080P Full HD (1920 x 1080)
Pixel number
2073600 pixels (1920 x 1080 pixels) x 3
Aspect ratio
16:9
Pixel arrangement
Stripe
Refresh Rate
100Hz or 120Hz (based on input signal)

PROJECTION LENS

Type
manual: zoom / focus
F-number
2.0 – 3.17
Focus length
22.5 – 47.2mm
Zoom ratio
1:2.1

LAMP

Type
200 W UHE E-TORL Lamp

SCREEN SIZE (PROJECTED DISTANCE)

30 to 300 inch (0.87m to 9.03m) (Wide)
30 to 300 inch (1.88m to 19.15m) (Tele)

LENS SHIFT RANGE

Vertical: 96.3% max. (upward & downwards)
Horizontal: 47.1% max. (Left and Right)

BRIGHTNESS

Normal Mode
1,600 Lumens Light Output
1,600 Lumens Colour Light Output
Colour Mode ( Dynamic, Zoom: Wide, Lens shift: V5.5 / H Centre )
*For further information on Colour Light Output click here

CONTRAST

200,000:1 ( Colour Mode: Dynamic, Zoom: Wide, Lens shift: : V10 / H Centre , Auto iris: On )

COLOUR PROCESSING

Full 10 bit

COLOUR REPRODUCTIVITY

Full Colour (1.07 Billion Colours)

COLOUR SPACE

115% of NTSC

VIDEO QUALITY

Interlace – Progressive conversion 3D Y/C separation, Noise reduction, Mosquito NR, Block NR

EFFECTIVE SCANNING FREQUENCY RANGE (Digital)

PIXEL CLOCK
13.5MHz to 150MHz
HORIZONTAL
15 to 80KHz
VERTICAL
24, 50 to 85Hz

ADJUSTMENT FUNCTION

PROJECTOR / REMOTE CONTROL
Brightness / Contrast / Tint / Saturation / Input signal etc.
TILT ANGLE
0 to 8.0 degrees
CONTRAST ENHANCEMENT
1 / 2 / 3 / Off
SUPER-RESOLUTION
1 / 2 / 3 / Off
COLOUR MODE
Dynamic, Living Room, Natural, Theatre, Theatre Black 1, Theatre Black 2, x.v. Color
EPSON CINEMA FILTER
Controlled automatically with colour mode
(ON: Natural / Theatre / Theatre Black 1 / Theatre Black 2 / x.v.Color,  OFF: Dynamic / Living room)
AUTO IRIS
Controlled automatically adjusting to video source. (Available at all colour modes except x.v.Color; user selectable Off/Normal/Fast on OSD)
EPSON SUPER WHITE
Controlled automatically adjusting to video source (Available at Natural/Theatre/Theatre Black 1 and 2; user selectable ON/OFF on OSD)
4:4 Pull Down (1080p/24p, 1080/60i, or 480i capability)
On/Off, convert 3:2 pull down signal to 4:4 pull down (Default on:1080/24p, Default off:1080/60i or 480i, HDMI & Component Input)

ASPECT MODE

Auto / Normal / Full / Zoom / Wide

ANALOGUE RGB I/O

DISPLAY PERFORMANCE
Native
1080p
Resize
1280 x 1024 / 1360 x 768 / 1024 x 768 / 800 x 600 / 640 x 480
INPUT SIGNAL
Signal type
Separate signal
Video signal
Analog (0.7V p-p,75 ohm/ Mac0.714Vp-p, 75ohm)
Sync.signal
Separate (positive & negative, bi-polarity 2-5Vpp) / Composite (positive & negative, bi-polarity 2-5Vpp) / Sync-on-green (negative, 0.3Vpp)
INPUT TERMINAL
Video
Mini D-sub 15 pin x 1 Blue molding

HDMI Ver.1.3

DISPLAY PERFORMANCE
Native
1080p
Video standard
480i / 576i / 480p / 576p / 720p / 1080i / 1080p
Video signal
TMDS ( Signal for HDMI)
Input Terminal
HDMI x 2 (HDCP)

VIDEO I/O

COMPONENT INPUT

INPUT SIGNAL
Video standard
480i / 576i / 480p / 576p / 720p / 1080i / 1080p
Video signal
Component Video (Analog Y level 0.7V 75 ohm / Cr Cb level +/-0.35V 75 ohm / sync. negative 0.3V or 3-state +/-0.3V on Y)
INPUT TERMINAL
RCA x 3 (Red / Green / Blue)

COMPOSITE / S VIDEO

INPUT SIGNAL
Video standard
NTSC / NTSC4.43 / PAL / M-PAL / N-PAL / PAL60 / SECAM
Video signal
Composite Video (1.0Vpp / Sync.negative, 75 ohm) / S-Video (Luminous 0.714Vpp, Chrominous 0.286Vpp, 75 ohm)
INPUT TERMINAL
S-Video
Mini DIN x1
Composite Video
RCA (Yellow) x 1

CONTROL I/O

SERIAL I/O
I/O terminal
D-sub 9 pin x 1
I/O signal
RS-232c
TRIGGER OUT
3.5 mm mini-jack x 1
Output Signal
Power on: 12v DC, 200mA max Power off: 0v
LOCK FUNCTION
Operation Lock & child-lock
OPERATING TEMPERATURE
5°C to 35 °C (41°F to 95 °F) at 20% ~ 80% Humidity
DIRECT POWER ON
Yes
COOL-DOWN PERIOD
Approx 16 seconds
POWER SUPPLY VOLTAGE
100-240 VAC ±10%, 50/60Hz
POWER CONSUMPTION
284W (Lamp High)
DIMENSIONS
EXCLUDE FEET
450mm(W) x 360mm(D) x 136mm(H)
MAXIMUM DIMENSION
450mm(W) x 390mm(D) x 145mm(H)
WEIGHT
Approx. 7.5 kg
FAN NOISE
HIGH BRIGHTNESS MODE
28dB (Colour mode: Dynamic)
WHISPER MODE
22dB (Colour mode: Theatre Black 1 and 2)
3 Months back to Sydney Base Warranty
STANDARD DELIVERY & INSTALLATION:
We welcome pay on pick up directly from our four Sydney Stores. Please contact us for prior arrangements if you wish to do so.
PICK UP IS NOT AVAILABLE FOR PAYPAL PAYMENT
All items are usually dispatched from our warehouse within 1-5 working days of receiving cleared payment
We offer you added peace of mind by having every item insured against loss, damage and theft whilst in transit ( No extra charge)
We offers direct shipping to your door using various carriers depending on items and your location:  Toll IPEC, TNT or Allied Express ,Couriers Please and Australia Post
Customers will be provided a tracking number once items have been dispatched
Delivery times will be vary depending on your location. Please allow up to 10 working days to receive your goods but normally it will be sooner.
WHITEGOODS DELIVERY
PLEASE NOTE: Currently we can only deliver White goods to Sydney Metro. However, customers can organize your own removalist to pick up from one of our stores. (Prior arrangement must be made)
The standard delivery charge for Fridges, Washing Machines, Dryers and Dish Washers to Sydney Metropolitan area is $60.00
OLD APPLIANCE REMOVAL SERVICE:
WHITEGOODS (Fridges, freezers, washing machine): $30.00
Brown goods (TV, Audio): $30.00.