Relax with great music
Obsessed with sound
with 30-pin connector
for iPod/iPhone/iPad
DVD, CD, USB, FM
120W, Bass radiator
Play and charge your iPod/iPhone/iPad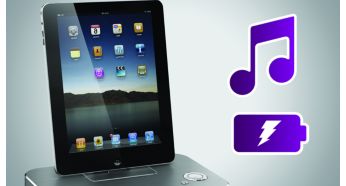 Enjoy your favorite MP3 music while charging your iPod/iPhone/iPad! The dock lets you connect your portable device directly to the Philips system so you can listen to your favorite music in superb sound. It also charges your iPod/iPhone/iPad while it plays so you can enjoy your music and not have to worry about your portable player battery running out. The system automatically charges your portable device while it is docked.
Play DVD, DivX®, (S)VCD, MP3-CD, WMA-CD, CD(RW) & Picture CD

The Philips player is compatible with most DVD and CD discs available in the market. DVD, DivX®, (S)VCD, MP3/WMA-CD, CD(RW) and Picture CD – all of them can play on the player. SVCD stands for "Super VideoCD". The quality of a SVCD is much better than a VCD, especially much more sharpen picture than a VCD because of the higher resolution. With DivX® support, you are able to enjoy DivX® encoded videos. The DivX media format is an MPEG4-based video compression technology that enables you to save large files like movies, trailers and music videos on media like CD-R/RW, and DVD recordable discs.

USB Direct for MP3/WMA music playback

With the USB Direct mode, simply plug in your USB device to the USB port on your Philips device and your digital music will be played directly from the Philips device.

wOOx™ loudspeaker Technology for deep and powerful bass

wOOx technology is a revolutionary loudspeaker concept that allows you to hear and feel profoundly deep bass that is richer than any other audio system. Special speaker drivers work in harmony with the wOOx bass radiator, and precise tuning between the main driver and the tweeter ensures smooth transitions from low-mid to high frequencies. Dual suspension and a totally symmetrical sandwich construction deliver low and precise base without noticeable distortion. wOOx produces exceptionally deep and dynamic bass by using the speaker box full volume to truly magnify the impact of the music.

Digital Sound Control for optimized music style settings

Digital Sound Control offers you a choice of pre-set Jazz, Rock, Pop and Classic controls you can use to optimise the frequency ranges for different musical styles. Each mode uses graphic equalizing technology to automatically adjust the sound balance and enhance the most important sound frequencies in your chosen music style. Ultimately, Digital Sound Control makes it easy for you get the most out of your music by precisely adjusting the sound balance to match the type of music you are playing.

120W RMS total output power

This system has 120W RMS total output power. RMS refers to Root Mean Square which is a typical measurement of audio power, or rather, the electrical power transferred from an audio amplifier to a loudspeaker, which is measured in watts. The amount of electrical power delivered to the loudspeaker and its sensitivity determines the sound power that is generated. The higher the wattage, the better the sound power emitted by the speaker.

Dolby Digital for ultimate movie experience

Because Dolby Digital, the world's leading digital multi-channel audio standards, make use of the way the human ear naturally processes sound, you experience superb quality surround sound audio with realistic spatial cues.

FM digital tuning to preset up to 20 stations

Digital FM radio offers you additional music options to your music collection on your Philips audio system. Simply tune into the station that you want to preset, press and hold the preset button to memorize the frequency. With preset radio stations that can be stored, you can quickly access your favorite radio stations without having to manually tune the frequencies each time.

Wake up and sleep timer functions

Many of alarm clocks feature a variety of alarm choices. This Philips Clock radio awakens you to radio or the traditional alarm buzzer. The Sleep Timer allows you to program the required length of time for music to coincide with how long you normally take to fall asleep. No matter what your alarm clock needs, whether it's a morning buzzer that produces a steady tone, or listening to your favorite music as you go to sleep, this clock radio has it all.
.
Sound
Output Power   2 x 60W

Sound Enhancement:

Digital Sound Control

Dynamic Bass Boost

Sound System      Dolby Digital
Audio Playback
Playback Media:

WMA-CD

MP3-CD

CD

CD-R

CD-RW
Convenience

Alarms

CD Alarm

Sleep timer

Radio Alarm

USB alarm

Clock  On main display

OSD Languages     English

Display Type     VFD display

Dimensions

Set Depth   230  mm

Set Height  141  mm

Set Width  230  mm

Main speaker depth 230  mm

Main Speaker height  304  mm

Main speaker width   139  mm

Weight incl. Packaging     8.6  kg
.
Factory Second Product
It does not come with the original box
.
3 MONTHS BACK TO BASE WARRANTY
.
STANDARD DELIVERY & INSTALLATION:
We welcome pay on pick up directly from our four Sydney Stores. Please contact us for prior arrangements if you wish to do so.
All items are usually dispatched from our warehouse within 1-5 working days of receiving cleared payment
We offer you added peace of mind by having every item insured against loss, damage and theft whilst in transit (No extra charge)
We offers direct shipping to your door using various carriers depending on items and your location: Toll IPEC, TNT or Allied Express ,Couriers Please and Australia Post
Customers will be provided a tracking number once items have been dispatched
Delivery times will be vary depending on your location. Please allow up to 10 working days to receive your goods but normally it will be sooner.
.
Buy with confidence with 100% Buyer Protection
No matter where you shop, we'll keep your financial information private and protected